Air Filter Cleaner Tool ~ Standard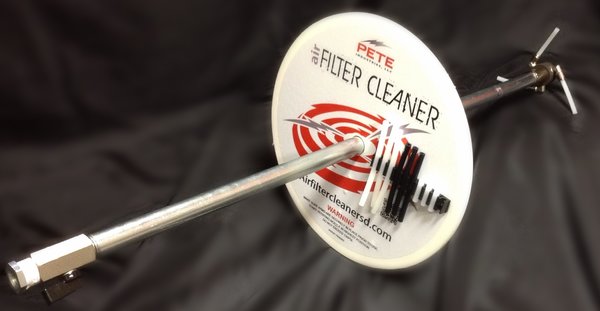 Air Filter Cleaner Tool ~ Standard
style="padding-top: 0px; padding-right: 0px; padding-bottom: 0px; border: 0px; font-stretch: inherit;font-family: futura-pt-1; vertical-align: baseline; color: rgb(0, 0, 0); margin-top: 10px !important; padding-left: 5px !important; font-size: 18px !important; line-height: 21px !important;">THIS IS THE TOOL YOU NEED IF YOU ARE IN AGRICULTURE/CONSTRUCTION/FORESTRY/MINING!
The Air Filter Cleaner tool comes with 5 sets of 3 interchangeable arms in 3", 4.5", 6", 7.5", and 9". The AFC will clean 4" to 11" ID radial seal air filters, shops vacs & auto filters.
The Standard Tool will include:
25" Shaft
Ball valve & Hex Bushing
Our 3rd Generation rotating nozzle with 3 ports (male elbow/push connects)
5 sizes of interchangeable (removable/replaceable) arms/tubes to accommodate all sizes of radial sealed filters.
Tiered Lid to accommodate various sizes of filters
Lid Bracket that will hold 3 sizes of arms at a time
This size AFC is perfect for use in the Ag industry.
Reviews