Air Filter Cleaner Tool Kit ~ Standard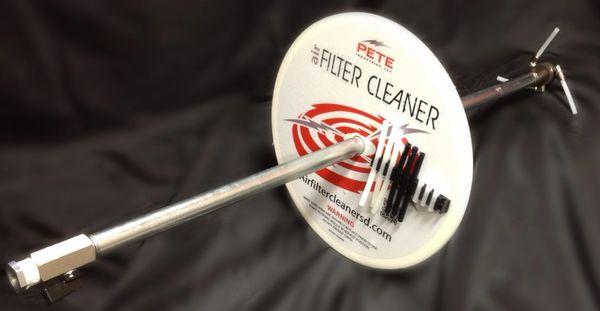 Air Filter Cleaner Tool Kit ~ Standard
style="padding-top: 0px; padding-right: 0px; padding-bottom: 0px; border: 0px; font-stretch: inherit;font-family: futura-pt-1; vertical-align: baseline; color: rgb(0, 0, 0); margin-top: 10px !important; padding-left: 5px !important; font-size: 18px !important; line-height: 21px !important;">THIS IS THE TOOL YOU NEED IF YOU ARE IN AGRICULTURE/CONSTRUCTION/FORESTRY/MINING!
The Air Filter Cleaner tool comes with 3 16" individual lengths of tubing in Red, Black , and Natural.  You will be able to customize your own according to the sizes of filters you will be cleaning. 
The AFC will clean 4" to 11" ID radial seal air filters, shops vacs & auto filters.
The Standard Tool will include:
25" Shaft
Ball valve & Hex Bushing
Our PRECISION MACHINED rotating nozzle with 3 ports (male elbow/push connects)
12" 7 Tiered Lid to accommodate various sizes of filters

Lid Bracket that will hold 3 sizes of arms at a time
This size AFC is perfect for use in the Ag industry.
Reviews